Description
The mainfloor is the venue, which gathers the biggest crowd of people; where are wild and hot parties till the morning lights, House, Progressive House and Trance music. At least once in a month Club Essential provides live shows, with world?s most famos DJ participation - Armin van Buuren, Tiesto, Above&Beyond, Markus Schulz, Dave Seaman, Axwell, Darren Price, John00 Fleming, Mark Knight, Matthew Dekay, Nich Fanciulli ant others.
The magnificent impression can be intensified with 40 m2 LED screen, one of the best sound systems in the world Dynacord "Alfa", spectacular lighting effects and of course, with interior. Besides you must see the four mainfloor bars, barmen shows and special cocktails.

AGE LIMIT: Thursday - 18, Friday - 21, Saturday - 21

Klubā darbojas FACE CONTROL. Kluba vadībai ir tiesības liegt ieeju klubā nepaskaidrojot iemeslu.
Gallery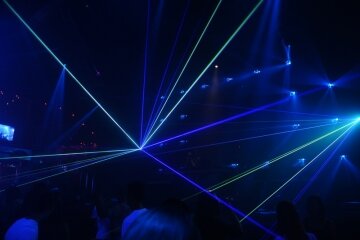 Technical info
LIGHT:
MARTIN MAC 700 Profile - 12
MARTIN MAC 700 Wash - 6
MARTIN ATOMIC 3000 DMX - 15
MARTIN MANIA SCX 600 - 28
MARTIN MAXXYZ - 1
HIGHEND CATALYST PRO 4 - 1(media server)
JEM HYDRA - 1
WILDFIRE LT-404 F - 4
STUDIO DUE CS4 - 4
CLS Pixelbar 36 LED - 42
UNIVERSAL EFFECTS ST-POWER 1000 - 1

DJ:
PIONEER CDJ-2000 - 2
PIONEER EFX-1000 - 1
PIONEER DJM-2000 - 1
ELECTROVOICE SBA 750 - 2
ELECTROVOICE Sxa 250 - 2

PA system:
Dynacord ALPHA X-1 - 8
Dynacord ALPHA B-3 - 8
Electrovoice P1200 - 4
Electrovoice P2000 - 4
Electrovoice P3000 - 4
Electrovoice DX38 - 3
Midas VENICE 160 - 1 (Mixing console)

Video:
STREET TELEVISION AQUA - 60 - 1 transparent LED screen
HITACHI 42" - 6
ARCTOS AQUASCREEN 3x5 M - 1 water courtain