News
Over The Top
RnB spring session at Club Essential – Over The Top

Club Essential starts it's spring sessions on thursday, 7th of May with Over The Top event which this time will take place in Club's Mainfloor.



Over The Top host DJ Rapa (Club Essential rezident) have invited the strongest RnB and hip hop Djs from Baltic states to his third Over The Top series. Just to name a few: DJ Vento (Club Essential), Krii (Pūpoli), mixmaster AG (Soulpower) and DJ Mamania (G&G Sindikatas, Pacha Vilnius), dancers: Pro-X, Jam Style, Big Bounce and Shine Dance Crew and breakdance virtuosos Hi-Center and Nu-Age Crew. To prove their high-representable place of their position performers will have a battle on the Mainfloor of Club Essential.

Be carefull: You won't be able to stand still all night long - Latvia's talantive RAP singer Gacho will rule the battles. Together with his group mates Domino (DoBiiti), Fakts and DJ Aspirīns Gacho will crash the floor with breathtaking RAP performance as the first scetch to his new album which will be released at the end of May.

Surprise gift for those who attend Over The Top: DJ Rapa new mix CD.



Over The Top is RnB event series hosted by DJ Rapa. Event main idea is to educate and entertain those who enjoy RnB and hip hop music. At the first two event Over The Top events performed the best Baltic's RnB and hip hop Djs, dancers and even guests from Wu-Tang Clan with their live performance.



DJ Rapa aknowledged his passion to music at the age of 10 by playing keyboards and singing. Since then he have been travelling around Baltics with his performances and DJ sets till he found out his rezidency at Club Essential on 2006. Now he have proved that the love to music stand over mundane needs and can delight houndreds of club and festival attendants around Baltics.



Over The Top special guest DJ Mamania (Lithuania) started his DJ carrier on 1998 after Gang Starr concert when he coundn't resist and bought his first hip hop record. Few years later DJ Mamania win Lithuana DJ contest which gave him opportunity to join Lithuanian hip hop band G&G Sindikatas. Now DJ Mamania is one of the best Baltic's "vinyl freaks". He can merge his rezidency at Pacha Vilnius with gigs all around Baltics each week end. He have recorded together with Skamp, Shmekla & Vaiper, Sel and shared the stage with Pharoe Monch, Dj Format, LoopTroop, Jeru The Damaja, Breakin Bread, DJ First Rate, Killa Kella to name a few.



Don't miss it! See You at Club Essential Mainfloor on thursday, 7th of May.



More info: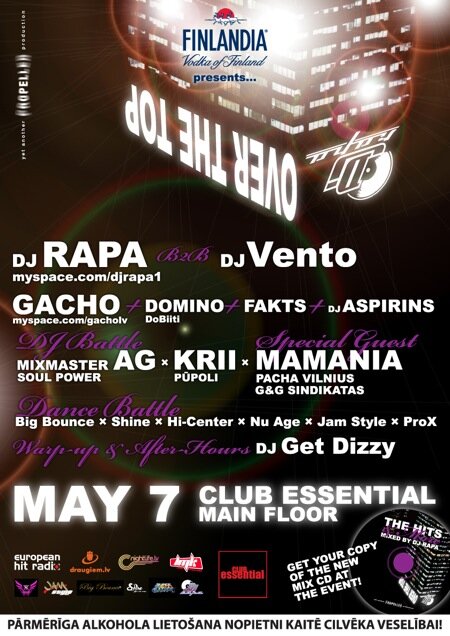 Related event
Over The Top
May 7th 23:00
Mainfloor
Get Dizzy,
Rapa b2b Vento,
Gacho,Domino,
Fakts,DJ Aspirins,
AG, Krii, Mamanja
nB zone
DJ Al Dee,
Roland Privert
White Room
DJ wOW
A30
DJ Sam,
DJ Japanis
Ticket price
23:00-24:00 - FREE,
24:00-06:00 Students 2 LVL, others 3 LVL
Event organizer
Essential Club.