News
Arno Cost
Exclusive performance on Latvian Dj Top Awards 2009

Since his discovery in 2006, French DJ/Producer Arno Cost has quickly moulded his reputation as one of the scenes most promising young talents. With his musical sensibilities residing within the realms of electronica, disco and house, Arnos' production and remix work has attracted praise from some of dance music's most formidable figures, including Pete Tong, Tom Novy and Sebastian Ingrosso.



Arno Cost's talent stemmed from his parents keen interest in exposing him to music from an early age. Brought up on a diet of pop music, Italo-Disco and later, the innovations of the seminal 'French Touch' such as Daft Punk, Arno's appreciation turned into creation as he took his hand to production in 1999.



Fast forward to January 2006 and the fruits of Arno's labour paid off after being signed to Serial Records along with his two close friends; Norman Doray and Pierre de la Touche. The trio found their big break in the form of collaborative single 'Let U Go', producing under the guise The Freshmakers. The single enjoyed heavy airplay on French radio as well as finding favour with many prominent DJs including Didier Sinclair, Antoine Claraman, Hoxton Whores and Muttonheads. Arno subsequently dropped a remix of Greyster's 'Under the Fuse of Love', which was immediately picked up by Pete Tong and entered the UK Club Charts at no.2, remaining a favourite for many weeks. The rest of 2006 was spent making The Freshmakers' remixes for the likes of Da Sushiman, Rilod and Serial Crew and pushing his own solo production ventures on imprints such as Cr2 and Kontor.



Arno's name was lavished with a great deal more attention in 2006 following the release of his first smash hit, the elegantly crafted 'Magenta' which he composed alongside Arias. Pete Tong and Tom Novy's adoration of the track was no secret, and with an arresting rework from Dave Spoon, 'Magenta' became something of a DJs secret weapon the world over. It was in fact the most played tune at The Amsterdam Dance Event that year. Arno's next Cr2 release was 2007's 'Apocalypse' with Norman Doray. A heady concoction of sweeping composition and thumping house rhythms, the single was a favourite with Eric Prydz and Steve Angello and was given a tough rework by Sebastian Leger. With no doubt as to the potency of Arno's partnership with production buddies Doray and de la Touche, the status as France's answer to the Swedish House Mafia is one increasingly linked to the Parisian contingent. Arno has been called on to remix for Laidback Luke, David Guetta and Zoo Brazil's 'Kalle' on Nero Records.



In 2008, Arno released electronic smash 'Souvenir' and 'Golden Walls', a collaboration with Sweden's John Dahlback. Both received glowing reports and support from the likes of Axwell and Steve Angello. Arno's status as a major international DJ is gaining serious momentum having played shows at The Sydney Freedom Dance Festival and a Cr2 night at Matter in London. Most notably in late 2008, the famous radio station RADIO FG chose Arno to mix its new compilation CLUB FG, following on from David Guetta last year.



2009 is set to be a very busy year for Arno with the release of new track CYAN coming soon and Arno is also set to launch his own label ACtive. Arno is a man who is increasingly in demand and with the additional creative outlet of The Freshmakers at his disposal, his talents are now a source of acute excitement amongst DJs, producers and house music revellers alike.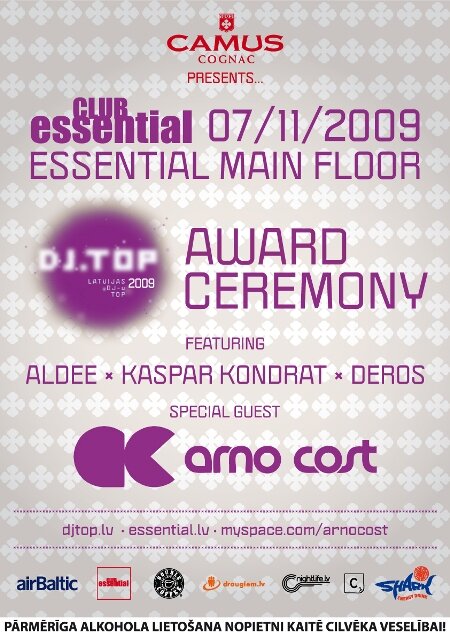 Related event
DJ Top Awards 2009
November 7th 22:00
Mainfloor
Aldee, Deros,
Arno Cost,
Kaspar Kondrat
R'n'B Zone
DJ Rapa
A30
DJ Japanis, DJ Sam
Ticket Prices
22:00-24:00 - Free,
24:00-4:00 - 5 LVL,
4:00-6:00 - 3 LVL,
6:00-10:00 - Free
Event Promoter
nightlife.lv