News
ABOVE & BEYOND
ABOVE & BEYOND, Boom Jinx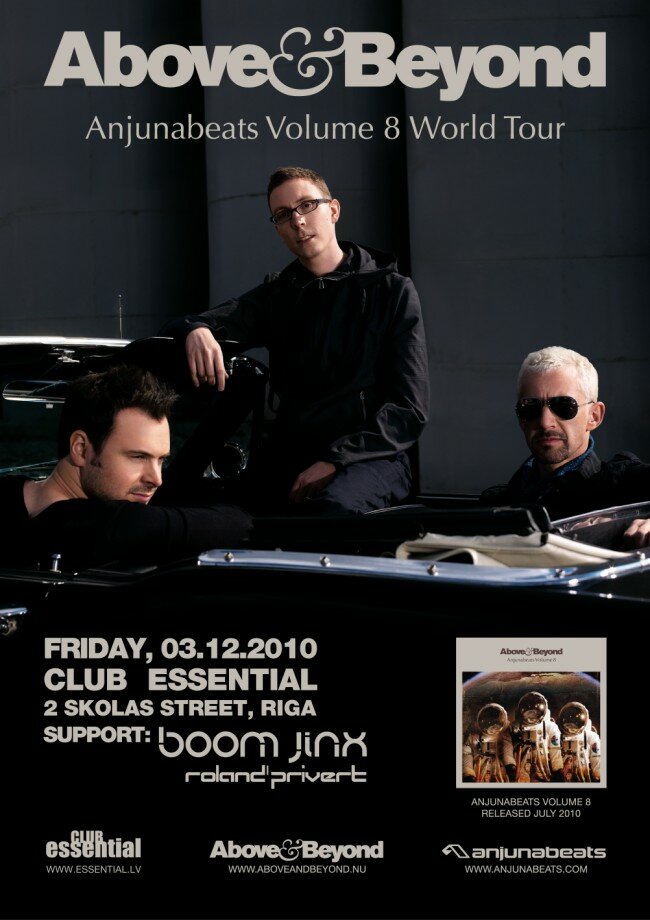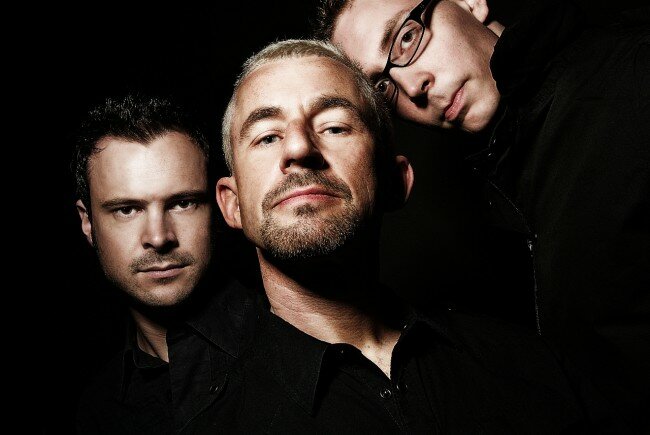 ABOVE & BEYOND BIOGRAPHY

"Few trance artists have reached Above & Beyond's stature in terms of integrity and respect." IDJ

"A cut above." – Mixmag

"Above & Beyond's vault from innovative trance trio to globetrotting DJ superstars is now complete." DJ Magazine

"The UK's new dance superstars." Pete Tong, Radio 1
"A blend of sleek electronic rhythms, lush filmic textures and old-fashioned songwriting, 'Tri-State' is the fulfilment of any dance act's ultimate album aspiration: a padding-free, skilled, diverse long-player. In a word 'brilliant'. 5/5" DJ Magazine

There are DJs who can rock a party, a club, a festival. And there are acts that can write songs that will bring out the goose bumps in you. But there's only one group that can do both: Above & Beyond. Currently fourth in the DJ Magazine annual poll – the highest-placed Brits – in the last year alone, they have sound-tracked the unveiling of a new space-ship, performed an acoustic show in a hot air balloon, and entranced a crowd of 8,000 in Beirut with their first full live show. For the world's most famous trance trio, there are no limits. "There's so much going on," says Tony McGuinness. "We're trying to do so many things."
From remixing Madonna (2001), to winning Essential Mix of the Year (2004) or playing to one million people on the beach in Rio de Janeiro (New Year's Eve 2007), Above & Beyond's career has been a constant upward curve since the trio formed in 2000. Because Above & Beyond make music, pure and simple. That music happens to be electronic. And it connects. "We're a group," says Tony. "And we're trying to connect with people. When you see people singing along as passionately as they do, I guess you're getting it right." The key difference is this: Above & Beyond are DJs, producers – and musicians. "We like to think of ourselves as songwriters first," says Paavo Siljamaki, who with Jono Grant makes up the trio. "The most challenging thing is to write a song that really touches the listener."
Creatively and geographically, Above & Beyond don't believe in borders. Hence 2009's full live band show in Beirut, Lebanon. "What an undertaking," says Tony. "We decided to do a really big, high production live show. It was an enormous undertaking and a risk." It was the first time they had translated the Above & Beyond sound to a live line-up – drums, bass, guitar, keyboards, singers Zoe Johnston and Richard Bedford. "People were blown away and we felt blown away by it ourselves," says Tony. And Beirut left its mark. "They rebuilt the town centre, it's beautiful," says Tony. "But we did a photo shoot in an old Chevrolet showroom and it had bullet holes, and the driver had fought on that very roof, and was picking up shell cases and explaining what happened."
At the other end of the scale, the group played an acoustic show for two fans and BBC Radio 1's Pete Tong in a hot air balloon as it sailed serenely over the English countryside. At one point, the driver flew the balloon at little more than a metre over a field of wheat. "It's like a dream sequence in a movie, because you're not flying fast or up and down, you're looking at something you would never see in nature," says Tony.
And when Richard Branson needed a theme tune for the unveiling of his new Virgin Galactic spaceship in the Mojave Desert with California governor Arnold Schwarzenegger, he turned to Above & Beyond. Jono DJed at the event. And 'Buzz', the track Above & Beyond provided, delighted the 'ship's designers with its sleek, rocket-fuelled, trance dynamics and crackly radio dialogue by astronaut Buzz Aldrin. "They thought it was perfect, thought it had the right resonance," says Jono.
From small, East European club shows to major festival like America's Coachella, Above & Beyond have a unique ability to captivate and engage audiences. Their music has grandeur and melody, but it's edged with steel too. There are dark shadows among the sweet moments. Trance is too small a word for their cinematic, ambitious sound, it's bigger than genres.

THE trio are experienced musicians who know their way around a studio. Tony McGuinness was marketing director for Warner Brothers Records – but for years previously was the guitarist/songwriter of cult indie band Sad Lovers & Giants. Asked to organize a remix of Chakra's 'Home' in 2000, he joined together with Jono Grant and Paavo Siljamaki - and Above & Beyond was born. "By coincidence we ended up putting three individuals with complimentary and different talents into the mix," says Tony.
Jono Grant first discovered dance music when he borrowed his brother James's cassette of Paul Oakenfold's classic Goa mix – and fell in love with its sweeping melodrama. Already training as a classical pianist and guitarist, he was inspired him to build his own studio, taking on part time jobs to fund his equipment. "I managed to save up enough money from mowing the lawn to buy a drum machine," he laughs. When he arrived at London's University of Westminster, he had a small, yet compact studio. His first production was a remix of Strike's Top Five hit 'U Sure Do'.
Paavo had arrived at the same university from his native Finland. Also classically trained on cello and piano, he was studying music business. The two met one beery night and Jono proceeded to play his latest productions. "Let's write a track together," Paavo told Jono. They pooled their studio resources in one mad taxi dash, and Anjunabeats was born. It is now one of the most famous labels on the world stage.
In 2001, Above & Beyond remixed Madonna's 'What It Feels Like For A Girl' after Tony talked his way into her manager's office – and into a remix. "We were pitching for the stars at that point," smiles Paavo. Madonna used their mix for her controversial hot rod rampage video, directed by her husband Guy Ritchie. Other remixes have included Dido's 'Sand In My Shoes' and Britney Spears's 'Everytime'. Their first single proper, 2002's 'Far From In Love' with Kate Cameron, became a dance anthem. Their 2006 album 'Tri-State' was greeted with rave reviews. "Brilliant," said DJ Magazine. "The ultimate fulfilment of any dance act's ambition." It was the song-writing that shone through - sweeping from euphoric melodies to atmospheric down-tempo moments. "We felt the perfect album wouldn't be 12 club tracks but a collection of songs that take you on a journey," says Paavo. "There were moments where we weren't really sure. But in the end we feel we made something we could be proud of."
One of the album's many standouts is 'Alone Tonight' whose otherworldly melodies and heartfelt vocal performance from Richard Bedford resonate with audiences all over the world. "A lot of people who go to clubs are single, and that song is about being in a relationship but feeling alone," says Jono. "So it resonates." Under their Oceanlab alias with singer/songwriter Justine Suissa, they also produced the unforgettable 'Satellite'. Another lyric with universal appeal – which Tony wrote about Paavo and his Japanese wife, when both were on opposite sides of the world – coupled with melodies to make you shiver and a vocal drenched in emotion. It too has become a vocal trance classic and live favourite.
Yet Above & Beyond aren't just consummate musicians and songwriters, they are also world class DJs. Their Trance Around The World radio show airs on over 15 FM, Internet and Satellite stations worldwide and has just celebrated its 300th show – in Russia. They began their DJing career in front of 8,000 people in Tokyo in 2002. In 2004 they won BBC Radio 1's Essential Mix of the Year. They are Number Four in DJ magazine's prestigious poll. "To be among such great DJs is a real honour," says Paavo. "There are people above and below that I really, truly respect."
Their 'Anjunabeats 100' – a collection of the very best tracks from their universally respected label - included a DVD documentary of the shows the group played over the Christmas holidays in 2007 in Goa, India and Rio de Janeiro, Brazil, where they celebrated New Year with a million people. A peak in a career that has been full of them. "It was life-changing," says Tony. "Amazing to look out and see that many people. In some ways it was too big to comprehend!"

WHAT audiences around the world also respond to is the professionalism and enthusiasm that Above & Beyond bring to their art. There is a warmth about the trio that people love. Tony is the one who gives it all on stage. "Tony is really the rock n' roll star of the whole crew," says Paavo. Tony sums up his band members with equal enthusiasm. "Jono is ambivalent about the incredible talent he has. He has a lot of energy, he is fearless when he's DJing and is always in a good mood." If Jono's contribution is an effortless musicality, says Tony, Paavo adds heart and soul. "What he brings is a sense is how to bring out the emotion in a track."
The ongoing Above & Beyond world tour continues. They just hosted a stage at the Future Music Festival, Australia's biggest live event, covering five cities. In the studio, they moved towards a fusion of house and trance with their gorgeously anthemic remix of Dirty Vegas's 'Tonight' – recorded in just 24 hours as part of the Ibiza Winter Music Conference. It's a direction the group are also following with their Anjundadeep label which hit Number One on the US itunes album chart. "It felt to us like the road between house and trance used to be fairly empty," notes Tony. "Now that has turned into an eight lane highway." The album included a daring, soaring remix of Radiohead's 'Reckoner'. "We always wanted to work with a Thom Yorke vocal, they're one of the most distinctive groups in the world," says Tony. Meanwhile their remix album of Oceanlab's 'Sirens Of The Sea' also reached Number One in the itunes Dance Album chart with pumped up versions of hits like 'On A Good Day'.
The next major project is the new Above & Beyond studio album – currently scheduled for Autumn 2010, their first since 'Tri-State' and in its finishing stages. Above & Beyond are a team of perfectionists, constantly striving to get better. "You get more out of life by collaborating," notes Tony. "We're always trying to grow." And what they do is make music with melody, movement – and meaning. Music, in short, that matters to people across the globe. "You can do stuff that is popular without selling out," says Jono. "If you do something with quality, people respond to that." Which is why even when they are half a world away, audiences always make Above & Beyond feel at home.



Related event
ABOVE&BEYOND
December 3rd 22:00
Mainfloor
ABOVE & BEYOND,
Boom Jinx,
Roland Privert
R'n'B Zone
DJ Vento
WHITE ROOM
DJ wOW
A30
DJ Sam
Ticket Prices
22:00-24:00 - 5 LVL,
24:00-4:00 - 7 LVL,
Ar Sportland un Čili Picas drauga kartēm 50% atlaide,
ESSENTIAL VIP un CLUB CARD for free
AGE LIMIT - 18
Event Promoter
Club Essential