News
XALAPENOS
Launch event featuring FERGIE, Kaspar Kondrat, Elvi Soulsystems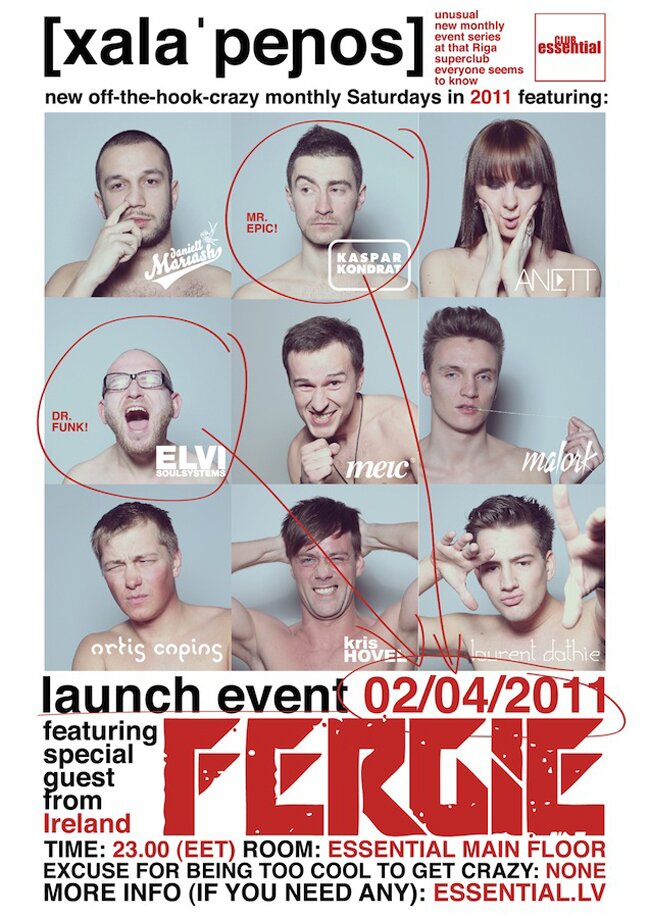 The most advanced dance venue in the Baltics - Riga's club Essential - now presents an unconventional, boundary ditching, unusual event series under the brand [xalaˈpeɲos] in collaboration with event promoter/artist management Propeller Productions and a bunch of the most innovative, playful, eclectic and daring electronic dance music artists in Latvia - Daniel Mariash, Anett, Elvi Soulsystems, meic, Malork, Artis Capins, Kris Hovel, Laurent Dathie and Kaspar Kondrat who actually takes the credit for coming up with the concept - an innovation for Riga - and the unpronounceable name of the event.
All of the participants share an unbearable desire to get crazy during the rest of the year 2011 and whilst on the verge - take the stage at club Essential's Main Floor with some of the like-minded artists from abroad; this is where Propeller Productions come in.

The massive launch event of the [xalaˈpeɲos] series already on Saturday, April 2nd will feature the long awaited inspiration to lots and lots of techno heads out there in Riga and beyond - the thrilling FERGIE! A resident of the city of Belfast, the man has the craziest approach to his productions that are almost guaranteed to chop heads during an an open-air festival or big room event when spun by most of the scene's luminaries; let's see if his DJ set proves the same quality! We are certain it will.

To accompany the special guest of the opening night, two of the fellowship of the [xalaˈpeɲos] were chosen for an unprecedented contrast - one of the most sought-after trance, techno and progressive artists to walk the concrete jungle of Riga - Kaspar Kondrat himself and Elvi Soulsystems who will make his debut in handling the specifics of the big room genre on the Essential Main Floor when the whole of Riga praises the man for the exact opposite - intimate, crazy, sweaty, genre-bending, eclectic parties around the city and the unofficial throne at the hall of the local "ugly mix" kings, meaning - you don't expect his sets to fit into any particular style of music at a time. What a night!

The series will then continue on the first Saturday of every month - every second month will have a surprise international guest, every month - a selection of the local [xalaˈpeɲos] aimed at as much a contrast you can get in one night!
Excuse for being too cool to get crazy together with the best of the best of Latvian electronic dance scene at unarguably the only true super-club of the Baltics? There is none.

Related event
XALAPENOS
April 2nd 23:00
MAIN FLOOR
Fergie,
Kaspar Kondrat,
Elvi Soulsystems
RnB FLOOR
DJ Rapa, DJ Vento
WHITE ROOM
DJ wOW
A30
DJ Edzus
Le Desire
DJ Sam
Ticket Prices
23:00-24:00 - Free,
24:00-4:00 - 5 LVL,
4:00-6:00 - 3 LVL,
6:00-10:00 - Free
Event Promoter
Club Essential